A teenager who was recently diagnosed with cancer and told he had just weeks to live defied doctors to deliver a speech to his school, telling his peers to "be grateful for the opportunities you have".
Jake Bailey, an 18-year-old school monitor at Christchurch Boy's High School in New Zealand, was told he "wouldn't be here tonight to deliver this speech". The teenager was determined to give his speech, which he had written before his diagnosis, and so persuaded the hospital to let him out for the evening, according to Stuff.co.nz.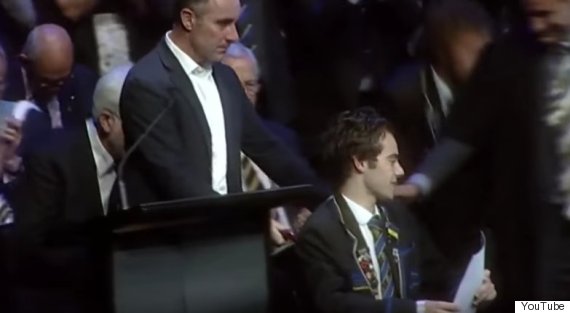 The teenager is so frail he had to arrive in a wheelchair
Bailey, who wore his school uniform, had to be pushed onstage in a wheelchair, where he received a standing ovation and looked visibly emotional.
"I wrote a speech and then a week before I was due to deliver the speech tonight, they said 'you've got cancer'," he told his audience. "They said 'if you don't get any treatment within the next three weeks you're going to die'. And then they told me I wouldn't be here tonight to deliver that speech."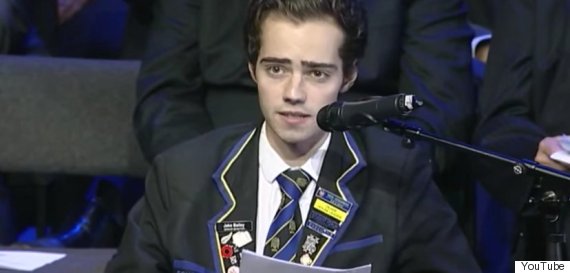 Bailey told his classmates to live for the moment
"But luckily that speech isn't about what's to come, it's about what an amazing year it's been," Bailey said.
"I don't know where it goes from here, for any of us.. But I wish you the very best in your journey and I thank you for being part of mine," he concluded.
His fellow students then went on to perform a haka for Bailey, who struggled to maintain his composure and mouthed "thank you" to his friends.
Source: Huffington Post